By Jennifer Holberg
An Excerpt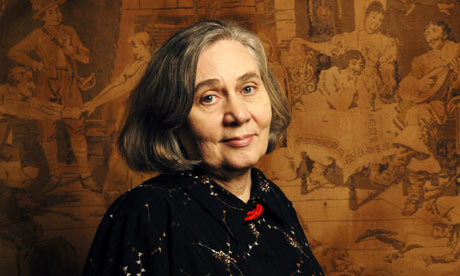 Marilynne Robinson's most recent book is When I Was a Child I Read Books. She was interviewed by Jennifer L. Holberg at the Buechner Institute at King College. Read the complete interview in Image #74.
Image: Teaching seems very central to your identity. You were once given a very large and prestigious grant to free you up from teaching, and yet after only a year and a half, you decided to give up the grant and to go back into the classroom. Can you talk about why the classroom is important to you, what you think teaching gives you?
Marilynne Robinson: This is often presented to me as a conflict—teaching and writing—and in terms of certain demands on my time and attention, it can be understood that way. But I think we have to break down categories that we're used to, and one of the things I can report from my own experience is that teaching is as profoundly satisfying as bringing up a child, or re-creating a family culture. It feels right to do it. What have people done since antiquity? Teach each other. Learn from each other.
I was reading that they have found evidence that people in pre-human culture navigated routinely to one of the islands in the Mediterranean and colonized it to the extent that there is a substantial cache of pre-human artifacts there. This was seventy thousand years ago or more, early enough that those people somehow or other didn't satisfy our definition of "people." What narrative would lie behind their ability to navigate to this island over a long distance of open water? They couldn't have done it with a raft—they had to have had something better. What history would lie behind developing something better than a raft? They say that tool-making goes back seven hundred thousand years in Africa. You figure that people probably didn't have very long life expectancies. How could they?—especially people who did something as perilous as navigating open water in God knows what kind of a vessel. So they must have been training each other, enculturating each other continuously from about as early as would be possible in a pre-human kid. The fact that there is such early evidence of these technologies and of such complex behavior implies that people have to have been teaching. People have to have been learning. It's the passing down of the wealth of any present knowledge that allows the accumulation of knowledge and makes people capable of these things. I really do believe that the whole of human civilization is tied up in teaching and learning as ritualized human behavior. When I teach I feel like I'm doing something right, natural, good for me to be doing. When I give up teaching, I feel as if something important has left my life.
Image: You have a wonderful essay in Tin House, which just devoted a whole issue to beauty. You write, "It has seemed to me for some time that beauty, as a conscious element of experience, as a thing to be valued and explored, has gone into abeyance among us." Do you believe this is tied to questions you explore in Absence of Mind about our love of "parascientific discourse"? I wonder if you feel that by giving such authority to certain narratives of science we have displaced an appreciation for other values, such as what you call "the mind as felt experience."
MR: I don't understand why it is that we seem to reject beauty in general. I think science is beautiful—I read as much of it as I can understand and have time for. I think scientists think science is beautiful, the ones working at the more imaginative levels, certainly. As religious people, I think we ought to be sensitive to the fact that the universe is beautiful at every scale. I became sensitive to that question in the first place when I asked my students to intentionally write something beautiful—just a paragraph—and they were flabbergasted by the suggestion. As if beautiful means hyperbolic or sentimental. At the same time, if you show them a passage from Chekov, they say, "That's beautiful." Why should it be an invidious term in any context? And then it seems to me that the churches in general have rid themselves of the heritage of beauty as industriously as they have rid themselves of the heritage of intellectualism, and this simply impoverishes them. There is no more to be said: it creates poverty where there should be wealth.
Image: Explicitly in your nonfiction and implicitly in your fiction, you lament our culture's lack of historical knowledge and engagement. You coined a term in Absence of Mind—"the hermeneutics of condescension"—to describe our sense that our forbearers are somehow beneath us. Could you explain that?
MR: There's a false anthropological model in place. There are always things wrong with anthropological models, even when they're appropriately applied, but when we assume that the people before us had to have been always making mistakes that we are superior to, we disqualify the past as testimony to the experience of everything that human life entails. Also, we misread past writers because we want to be able to put them in these categories: "Well, so-and-so couldn't have thought that because that was before civil rights." I'm writing about Faulkner now, and I think he's profoundly condescended to on assumptions of that kind.
We teach each other shorthand, and there's nothing in the world that people remember so profoundly as these little offhand things they're told. I constantly come up against Max Weber's The Protestant Ethic and the Spirit of Capitalism. It's a really bad little book. One of the things that is important to do is to read primary texts, but I have heard a thousand people quote Max Weber, or at least quote his title, and perhaps one or two of them have actually looked at the book. It's not scholarly. It's not rigorous. He has taken the kind of polemical categories that were used against Jews in Germany in the same period, and he's flipped them over and directed them to Reformed people, who were also a minority in Germany. He was rebutted by a friend of his, whose book was called The Jews and Modern Capitalism, who simply took the stereotype and reapplied it to a more familiar context. The whole thing is bogus—it has no intellectual or conceptual value—but people know that the book exists, and they feel that something has been proved. I think that they believe Max Weber more than they believe Galileo. It's this hard little nugget, and there are so many like it. People don't feel obligated to look at things with their own eyes and think about them with their own minds, and that's a disaster.
When people mention Weber they act like they're playing a trump card: Calvin—I'm sensitive on that subject, too—had to have been the source of all that is mean and money-grubbing because Max Weber said so. The confidence is entire. And this is only one example. You find it over and over again. Somebody taught an economics class to this same person, no doubt, and probably talked about the positive and negative sides of Keynesianism and this, that, and the other. But one day he said, "Max Weber demonstrated the origins of capitalism in Calvinism." That they remember—all the subtlety, all the nuance they forget.